The Covid effect on teaching: positive or negative?
Keywords:
didactics, design, methodologies, evaluation
Abstract
The virus, which has put the whole world in great difficulty, has also forced us to take a closer look at some aspects of school and education that have been on paper and not present in reality for too long.
The most striking aspect was the digitization of the school and also a review of teaching methods. For some time now, both in the national guidelines and in the current Minister's act of direction, there has been talk of putting the student at the centre of his or her own learning and of making teaching less frontal and more oriented towards new teaching methods.
As a member of the NEV groups, which visited the schools before the virus arrived, I can say that I have seen much more frontal teaching than I would have expected after years of publications of the Indications and after the many ministerial solicitations.
The school must also make a much greater effort if students are to leave the school and have acquired consolidated and lasting learning and real skills that can be spent in different contexts.
Research in didactics is lately focusing a lot on backwards planning, which overturns the concept of traditional planning and also on methodologies that are closer to the working and social reality.
For this reason, I wanted to think of a more conscientious way of the new beginning of post covid school, which is not a slave to the motto "everything will go well", which has tormented us in recent months, but which is able to implement a healthy revolution in the way we plan and teach in the school to come.
References
Argyris Chris, Schön Donald Alan (2005). Apprendimento organizzativo. Teoria, metodo e pratiche. Guerrini e associati.
Ballard Ian C., Wagner Anthony D., McClure Samuel M. (2019). Hippocampal pattern separation supports reinforcement learning. NATURE COMMUNICATIONS 10:1073.
Bauer-Ramazani Christine, Graney John M., Marshall Helaine W., Sabieh Christine (2016). Flipped Learning in TESOL: Definitions, Approaches, and Implementation. TESOL Journal 7.2, 429-437.
Becchi Egle (1997). Sperimentare nella scuola. Storia, problemi, prospettive. Firenze, La Nuova Italia editore.
Castoldi Mario (2016). Valutare e certificare le competenze. Ed. Carrocci.
Castoldi Mario (2020). Gli ambienti di apprendimento. Ripensare il modello organizzativo della scuola. Ed. Carrocci.
Greenstein Laura (2017). La valutazione formativa. Utet Università editore
Hattie John (2016). Apprendimento visibile, insegnamento efficace. Metodi e strategie di successo dalla ricerca evidence-based. Erickson, Trento.
Hattie John, Timperley Helen (2007). The Power of Feedback. Review of Educational Research March 2007, Vol. 77, No. 1, pp. 81-112.
David A. Kolb (1983). Experiential Learning: Experience As the Source of Learning and Development. Prentice Hall Ft. Pr.
Milani Lorenzo, Gesualdi Michele (2007). Lettere di don Lorenzo Milani. Priore di Barbiana. San Paolo Edizioni, Cinisello Balsamo (MI).
Leamson Robert (2000). Learning as Biological Brain Change. The Magazine of Higher Learning, 32:6, 34-40.
Resnick Lauren (2013). Education and Learning to Think. Cambridge Scholars Publishing
Tolman Edward (1981). L'uomo psicologico. Franco Angeli editore.
Wiggins Grant, McTighe Jay (2004). Fare progettazione: la «teoria» di un percorso didattico per la comprensione significativa. LAS, Roma.
Wiggins Grant, McTighe Jay. (2004). Fare progettazione: la "pratica" di un percorso didattico per la comprensione significativa. Roma: LAS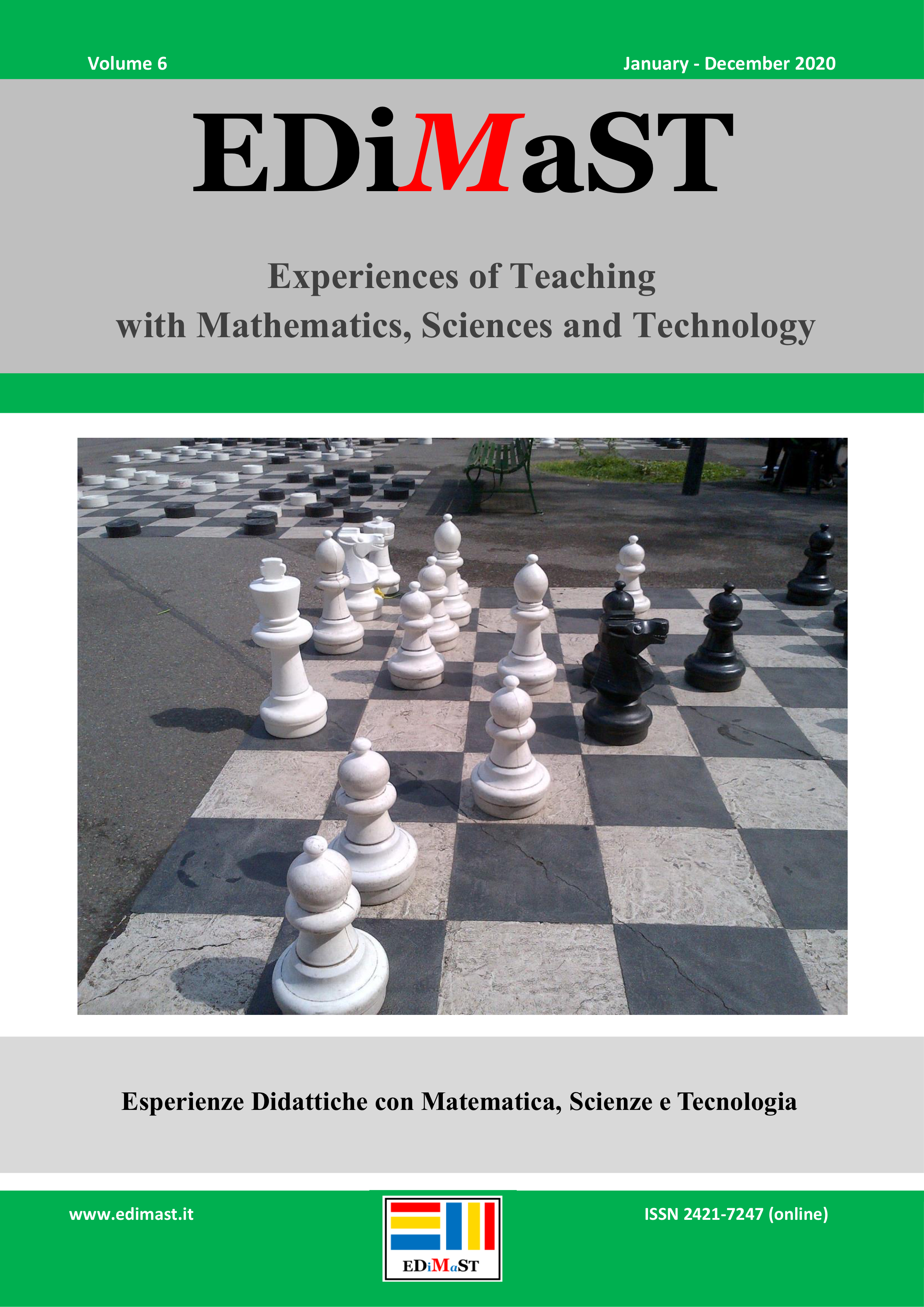 Downloads
How to Cite
Graziani, I. (2020). The Covid effect on teaching: positive or negative?. EDiMaST: Experiences of Teaching With Mathematics, Sciences and Technology, 6, 9–27. Retrieved from https://www.edimast.it/index.php/edimast/article/view/71
Section
Experiences & Research Articles
License
Copyright (c) 2019 Ivan Graziani
This work is licensed under a Creative Commons Attribution 4.0 International License.