A Journey through the geometrical alchemies of art: an example of constructivist teaching
Keywords:
Archimedes' Spiral, Architectural Frieze, Constructivist Teaching Approach, Programming Environment
Abstract
This paper illustrates a teaching setting which adopts a constructivist approach, and is centered on the combination of Mathematics and Art. The aim is to appeal to those minds that have a curiosity for a discipline which has long interacted with artistic expression, and to introduce new perspectives in the teaching of Mathematics in the light of the latest technological challenges. The trigger element - a decorative spiral frieze - has led to a process of Euclidean geometrical construction first with traditional tools, and then through the use of simple algorithms implemented in the MatCos programming environment. The drawing of the spiral curve represents a learning opportunity, a practice which combines analysis and synthesis, a journey between past and present which offers the student the opportunity to acquire some basic conceptual and instrumental implications in the age-old relationship between Mathematics and Art.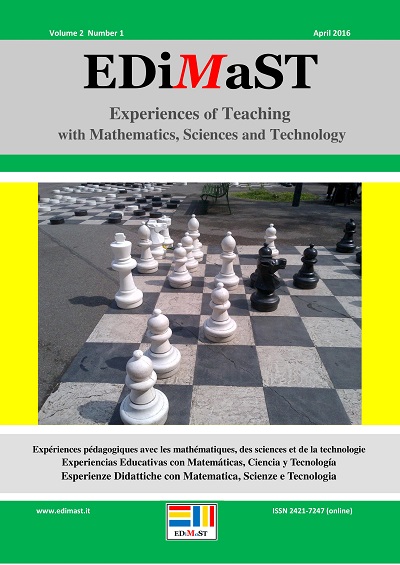 Downloads
How to Cite
Serpe, A., & Frassia, M. G. (2016). A Journey through the geometrical alchemies of art: an example of constructivist teaching. EDiMaST: Experiences of Teaching With Mathematics, Sciences and Technology, 2(1). Retrieved from https://www.edimast.it/index.php/edimast/article/view/26
Section
Experiences & Research Articles