Developmental dyscalculia and the teaching of arithmetic
Keywords:
Developmental Dyscalculia, learning arithmetic difficulties, methodology and didactics, neurobiology of dyscalculia,
Abstract
To understand Developmental Dyscalculia and organize an inclusive education that is functional to ensure the overcoming of the difficulties involved, it is necessary to know how the arithmetic is processed in the brain, both in subjects with neurotypical functioning and in those who, instead, have abnormal neural functioning that characterizes the dyscalculia disorder. From this information it is possible to address the choices of methodological practices for the classroom setting, following the directions of the research path named "Cervello, Cognizione & Educazione" which traces the basic steps to make possible a link between the Cognitive Sciences and the Educational Sciences. This article aims to describe what is numerical cognition, making a short review of the most recent researches concerning dyscalculia in the context of Cognitive Sciences and to create a possible methodological approach useful for teaching arithmetic basic competencies, in a school inclusion perspective.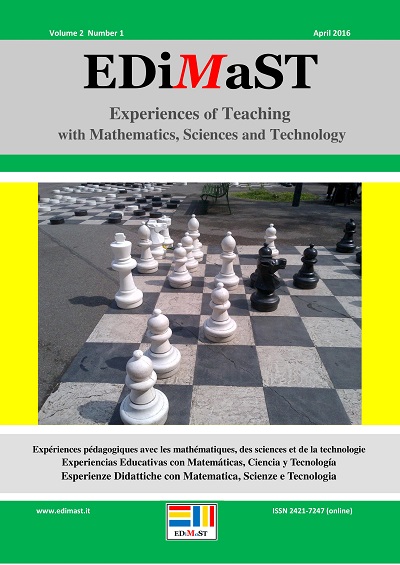 Downloads
How to Cite
Collerone, L. M. (2016). Developmental dyscalculia and the teaching of arithmetic. EDiMaST: Experiences of Teaching With Mathematics, Sciences and Technology, 2(1). Retrieved from https://www.edimast.it/index.php/edimast/article/view/23
Section
Experiences & Research Articles