La comunicazione didattica in Matematica: Aspetti critici ed esperienze di apprendimento
Keywords:
Mathematics, communication, ICT, didactics,
Abstract
Students' difficulties in learning mathematics are long-faced, intricate matters. We can face up to this problem through different perspectives. A link between difficulties with mathematics and Specific Learning Disabilities requires well-defined methods and tools, so we would like to consider difficulties about communication of mathematics' notions. In this article, there is an introduction about the literary aspects of mathematics linked to psychological difficulties in learning. There's also a review about experiences of communication and didactic training with ICT.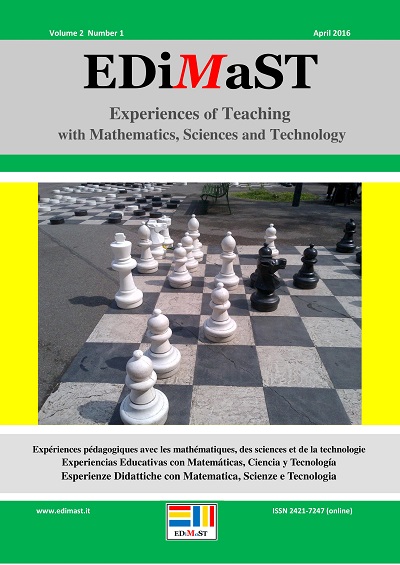 Downloads
How to Cite
Mastrogiacomo, V., & Paradiso, E. (2016). La comunicazione didattica in Matematica: Aspetti critici ed esperienze di apprendimento. EDiMaST: Experiences of Teaching With Mathematics, Sciences and Technology, 2(1). Retrieved from https://www.edimast.it/index.php/edimast/article/view/22
Section
Experiences & Research Articles